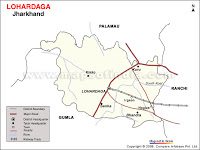 Police Administration – Lohardaga (Jharkhand)
Std Code – 06526
District Lohardaga Police Administration Contact Number like SP, DSP, SDPO, PS In-charge
| Designation | Mobile | Office | Residence |
| --- | --- | --- | --- |
| SP (Superintendent of Police) | 9431706218 | 224070 | 224097 |
| SDPO (Sub Divisional Police Officer) | 9431375998 | 224086 | 222494 |
| DSP (HQ) (Deputy Superintendent of Police) | 9431158848 | 223619 | |
| DSP (Deputy Superintendent of Police) Special Branch, Lohardaga | 9771400527 | | |
| Sub Inspector Crime Research | 9431765306 | | |
| P.S.(Police Station) InCharge, Lohardaga | 9931527748 | 224020 | |
About Lohardaga: – Lohardaga is a famous town in the State of Jharkhand In India. It is well connected to Ranchi by road and by rail. There is a plan to extend the railway to 44km to connect with Tori railway station in Chandwa district. The major problem of this district is quality education. There is only some private school are providing good education, but other hands a number of the government schools have not well infrastructure and good teachers. Another big problem is drinking water.
S.P (Superintendent of Police) :- S.P is the head of district police. S.P is the officers of I.P.S.
D.S.P (Deputy Superintendent of Police) :- DSP is the second police head in any district. The work of DSP is to maintain the law and order in the district.
S.D.P.O (Sub-divisional Police Officer) :- SDPO post is also the part of Police department. This is also one of the most responsible posts in respective departments in the subdivision.
P.S (police station) In-charge :- The duties of P.S in charge are to control the crime and keep the law and order maintained under his jurisdiction area.
Contact Numbers of SP, SDPO, DSP (HQ), DSP Special Branch, Sub Inspector Crime Research, P.S In charge of District Lohardaga, Jharkhand.